Most artwork our customers bring us will hang on a wall without much in the way of size restrictions. Sometimes though we're asked to frame photos or other art to keep it small. That's usually because it will sit on a desk or a bookshelf or it needs to hang in a small space, maybe between two windows.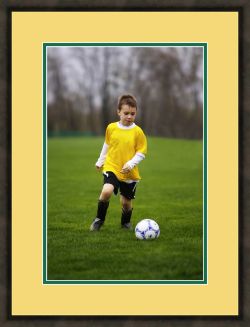 A natural first thought is to use narrow mats and a narrow frame. This 5×7 photo has a 1 ½" wide mat and a frame around ½" wide. It does the job but it isn't the sort of frame that will make people really notice it and tell you how great your son looks. Also, with such narrow mats, it's difficult to really get a good balance of colors and contrast.
In a situation like this, it's often best to just forget about the mats and do something great with the frame.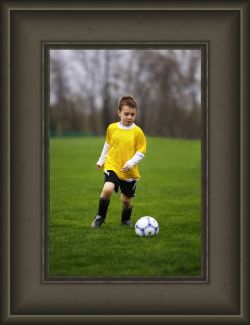 This is the same picture framed without mats and a more substantial frame. The narrow mats were just a distraction, but the dark frame contrasts with the young man's bright jersey, making him the star.
And, despite your first reaction when we show you a wider frame for a small picture, it is no bigger than the narrow mat/narrow frame combination.
Don't be afraid to go big and go bold!